History
On 14 October 1933 Lama Anagarika Govinda, inspired by his Tibetan teacher Lama Ngawang Kalsang, formally founded the Arya Maitreya Mandala in Darjeeling. Govinda initiated fourteen Indian personalities and made them members of the order. The order's message was well received by intellectuals and spiritual seekers in India.
For two decades the order's activities concentrated on the Indian subcontinent until Lama Govinda initiated in Deolali two men from Vietnam and Germany into the Arya Maitreya Mandala. Phue-Tuê, a Buddhist monk from Hanoi, and German author Hans-Ulrich Rieker (1920-1979), who became members in 1952, set up branches of the order in Eastern Asia and in Europe.
The founding of the European Branch took place in ceremonies simultaneously conducted in Sanchi (India) by Lama Govinda and in Berlin by Hans-Ulrich Rieker on 30 November 1952. In Berlin Lionel Stützer (1901-1991) and Harry Pieper (1907-1978) became the first members initiated in Europe. During the following decades the Arya Maitreya Mandala established branches in Germany, Belgium, The Netherlands, Hungary, England and Austria.
The Vietnamese branch was supported by a German member of the order, Dr. Rudolf Petri (1915-1980), who in 1958 received initiation into the Arya Maitreya Mandala by Lama Govinda. Rudolf Petri settled as a Buddhist monk (Ven. Anuruddha) in Vietnam. He trained Vietnamese, Chinese and American disciples. One of his disciples set up a branch of the Arya Maitreya Mandala in Singapore.
The worldwide interest in the order grew further, when Lama Govinda went on lecture tours outside India. In 1960 he traveled to Italy as a representative of Buddhism at an international religious conference in Venice. Subsequently he went to England, Germany, Switzerland, Austria and the Netherlands. In 1965, 1968/69, 1972/73, 1974/76 he undertook world tours including Europe, America, South Africa, Japan and Singapore. After thirty years he spent permanently in India and Tibet the renowned scholar, mystic, painter, poet and author of The Way of the White Clouds and Foundations of Tibetan Mysticism attracted a lot attention among people interested in Buddhism and Eastern spirituality. A branch of the order was established in the USA under the leadership of Iru Price.
From 1961 Lama Govinda had trained in India his major disciple, the German physician Dr. Karl Heinz Gottmann (1919-2007), known by his initiation name Advayavajra. Appointed by Lama Govinda as his successor, Karl-Heinz Gottmann became the head (Acharya) of he Arya Maitreya Mandala in 1982. Carrying on the task of Lama Ngawang Kalzang and Lama Govinda, Karl-Heinz Gottmann inspired many earnest seekers imparting knowledge to them according to the traditions preserved by the Arya Maitreya Mandala.
Following Lama Govinda's wishes, Advayavajra passed his duty as the Acarya of the Arya Maitreya Mandala to his son Dr. Armin Gottmann in 1999. Having been a student of Lama Govinda from his early youth, Armin Gottman, also known by his initiation name Asanga, has been the spiritual leader of the Arya Maitreya Mandala until March 2015.
Currently the philosopher and religious studies scholar Volker Zotz is the Mandalacarya of the order.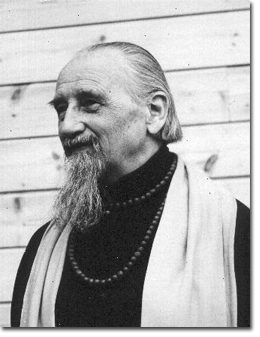 Lama A. Govinda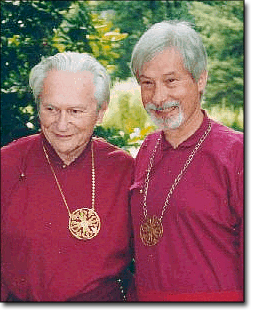 Advayavajra and Asanga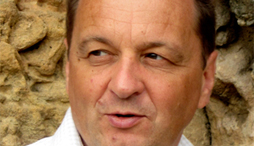 Volker Zotz